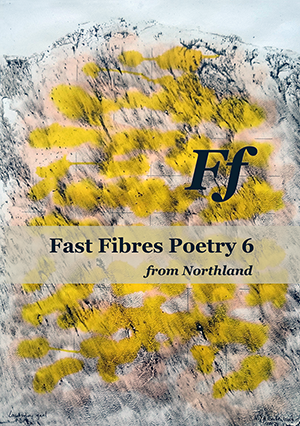 New anthology out now!
Fast Fibres Poetry Six: from Northland ed. Piet Nieuwland and Olivia Macassey
(Fast Fibres Poetry Collective, 2019)
Featuring: Sarah Angus, Shelley Arlidge, Julia Barber, Michael Botur, Rob Burt, Lyndsay Campbell, Veronica Cleary, Geraldine Craw, Robert Davis, D'Bruce, Daphne de Jong, Murray Edmond, Lola Elvy, Arthur Fairley, Malcolm Ford, John Geraets, Michael Giacon, Mike Gillard, Narine Groome, Vaughan Gunson, Steve Herbert, Aidan-Barrett Howard, Lincoln Jaques, Christel Jeffs, Jac Jenkins, Lynda King, Audrey Lappin, Tracie Lark, Fran Lawrence, Wes Lee, Olivia Macassey, Grahame Maclean, Jack McKerchar, Philip Muir, Piet Nieuwland, Heidi North, Margaret Northey, Denise O'Hagan, June Pitman, Andi Podesta, Martin Porter, Vaughan Rapatahana, Aaron Robertson, Natascha Rodenburg, Ila Selwyn, Greg Shaw, Karen Sidney, Ashlee-Ann Sneller, Suzanne Takiwa, Joanne Tasker, Anne-Marie Te Whiu, Loren Thomas, Vivian Thonger, Mercedes Webb-Pullman, and Briar Wood.
Art: front cover Natascha Rodenburg; back cover Mandy Sunlight.
Launch: Thursday 22 August, 5.30pm to 7.30pm
Location: Poets At ONEONESIX, 116 Bank Street Whangarei

To purchase: contact Piet Nieuwland fastfibres@live.com