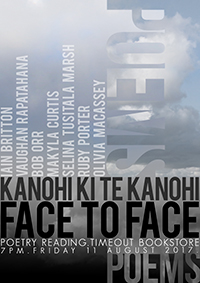 Kanohi Ki Te Kanohi – Face to Face: poetry reading at Time Out in Mt Eden

Poets: Iain Britton, Bob Orr, Selina Tusitala Marsh, Vaughan Rapatahana, Ruby Porter, Makyla Curtis, Olivia Macassey.
Iain Britton will have his new book, The Intaglio Poems!
Time Out Bookstore, 432 Mt Eden Rd, Auckland
Friday 11 August, 7-8.30 pm
Free entry.