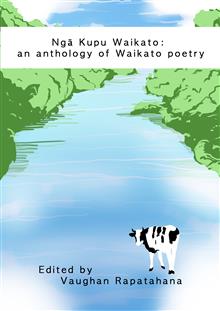 The new poetry anthology Ngā Kupu Waikato: an Anthology of Waikato Poetry, edited by Vaughan Rapatahana with an introduction by Mark Houlahan (Waikato Press 2019), is out now, with a book launch at Browsers Bookshop, Victoria Street, Hamilton at 4.00 pm on Sunday 31st March. 
The first ever anthology of poems from the Waikato, Ngā Kupu Waikato includes some fantastic work by 40 poets ranging from well-known to new and emerging writers, including  Stephanie Christie, Murray Edmond, Amanda Hunt, Terry Locke, Maris O'Rourke, Bob Orr, Vincent O'Sullivan, essa may ranapiri, Tracey Slaughter, and Loren Thomas.
The Waikato region includes the Coromandel Peninsula, where I'm from, and I am fortunate that two of my poems are included: 'Home' and 'At Kuaotunu'.
and they have dragged the old upright piano out of the hall again,

brought it over to the sandy barren where

my now youthful mother begins to sing the night's raw crescendo and diminuendo

through jazz to blues, the fiddle player resting his beer on top of the case