The Burnt Hotel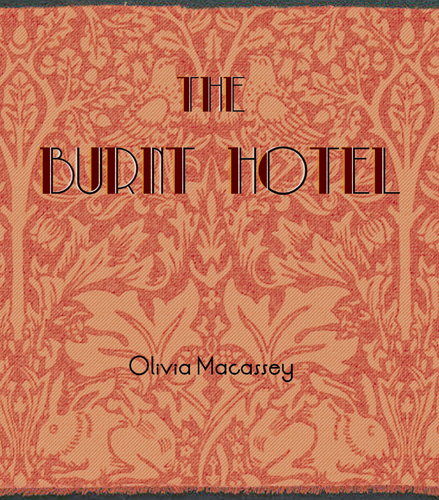 Titus, 2015.

"I remember the night he went sleepwalking
and a hotel burned down.
He worried that he had done it,
or hoped he had…."
Taking the reader from inner-city Auckland to fairy-tale clearings and finally into the burnt hotel itself, these lyrical poems chart the terrain where the ordinary meets the fantastical, a vivid world of "other people's lives" populated by lovers and rent-boys, sleep-walkers and monsters. At its core is a subtle exploration of embodiment and the nature of being human.
"The Burnt Hotel plays out like a dark melody. With what one poem calls 'the violence of dedication', the writing returns to particular words, lines and feelings like a ballad does to a refrain: loss, love, lemonade, a razorblade. Olivia Macassey's poems will lead you down strange, new streets. They'll follow you home." — Hinemoana Baker.
Reviews:
"The dreamy, lyric, intensely introspective and yet never self-indulgent truth of [Macassey's] writing continues to enchant in this new book. And Brett Cross and Ellen Portch's design work on it is really beautiful." — Jack Ross, NZ Poetry Shelf
"We are confronted with the grim realities of decay, broken relationships, un-belonging and regret, yet the poetry is lively and unsentimental. It is lyrical and fresh, full of surprises, mind play and investigation […] The Burnt Hotel is a remarkable book." — Elizabeth Coleman, Takahē
"The beauty of this poetry appears in carefully chosen language appearing quite artless, seeming natural, in lyrical flights and journeys, surprises, and originality. Poetry does take us beyond the ordinary, often quickly. But also, an extraordinary depth of meaning's possible with only a few adeptly chosen words. Poetry like Macassey's offers alternatives too, and therefore strengthens ideas re our freedom to find individual new meanings in old stories, or any notion." — Raewyn Alexander, Rochford Street Review
"The exceptional middle section of the collection retells fairy tales such as The Little Mermaid, Little Red Cap, and Cinderella, and the collection is worth it for the moment in 'My beautiful cinderalla' when Macassey calls the prince 'the fetishist'. These are unapologetic, feminist poems, and the cutting imagery explores the way women are controlled." — Sarah Jane Barnett, Landfall Review Online
Where to buy:
Online: available here from Titus Books
Auckland: University Bookshop, Unity Books
Wellington: Unity Books, Vic Books
Christchurch: UBS Canterbury
---
Also by Olivia Macassey
Love in the Age of Mechanical Reproduction
Titus, 2005

This debut book-length poetry collection was released in 2005 by Titus Books. It includes several long poems such as 'Love Without Bodies' and 'Two Fools'.

"the many men so beautiful
and they all – how they lied to me;
I didn't mind. And a thousand
thousand slimy things lived on, like me, like me!"

"In rich and beautifully chosen words, Love in the Age of Mechanical Reproduction offers a disquieted world of shadow, an intermediate state, where reality is where you find it…" Read more…
---
Client Numbers (chapbook)
Aotearoa Invisible Press, 2011

This chapbook was released as an e-book and downloadable DIY print chapbook. It includes the poem 'They Say In a Healthy Economy There Should Be 5% Unemployment Or, What Has Social Welfare Ever Given You.'

"and I am winding, hurried like a creek through
steep places. Catch tight the branches of belief
and feel them come away in your hands. Hope
my last luxury: pebbles rolling through
loose clay and dry gorse. But alive."

Client Numbers is available online, for free. Read more…