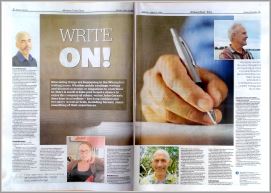 Here's a fun feature in the Northern Advocate by poet and writer John Geraets (whose wonderful selected writing Everything's Something in Place came out this year), with additional pieces by poets Aaron Robertson, Piet Nieuwland, and me:
"Interesting things are happening in the Whangārei writing scene. Whether public readings, writing and discussion groups or magazines to contribute to, there is much to take part in and a chance to enjoy the company of others" – John Geraets.
"My own practice of writing poetry is one of strange, random compulsions. Although, in general, I don't think in words (I have to 'translate' thoughts from spatial images), the words in my poetry often seem to form by themselves — it's like being inhabited by poems" – me.
Read online here, or, if you can't access premium content, here is a pdf from the print edition: Write On! Northern Advocate, Sat August 10